Fall Picnic and Costume Parade--Please RSVP!

Neighbors:
We are excited for our fall picnic and costume parade! We will serve hamburgers, hotdogs, and veggie burgers. If you like, please bring a side item to share. Our costume parade will begin at approximately 4:15 with a police escort! We will also have a moonbounce for kids.
Please RSVP so that we know how much food to buy: https://www.eventbrite.com/e/arlington-heights-fall-picnic-tickets-51290801167
Thank you!
AHCA Officers
Montessori Program Naming Committee - Call for Participation
Dear neighbors:
APS is forming a naming committee to come up with a name for the Montessori program (currently housed at Drew Model School) for when it moves to Patrick Henry. APS has offered a resident of Arlington Heights a seat on the committee. Please let me know ASAP if you would like to be a part of the committee.
This is a good opportunity for a Montessori parent or interested person to help shape the future of the new school.
Thank you,
Kristi Rupert Sawert
AHCA President
AHCA Q3 2018 Quarterly Meeting Minutes
Dear neighbors:
Many thanks to everyone who turned out for our quarterly meeting on August 14, 2018.
Please see the draft minutes of the meeting (Thanks, Eileen Janas!)
Thanks also to Nick Carrasco, who was unanimously voted in as our new AHCA First Vice-President, and Matt Ambrose, who was unanimously voted in as our new Treasurer. Welcome aboard, Nick and Matt!
Nick is heading up a subcommittee along with Jay Wind to improve our website and investigate delays in sending out Yahoo! mail.
If you have technical expertise and would like to help Nick and Jay, please email Nick at nickc321@gmail.com.
We discussed whether it will be possible to continue to print out our newsletter given our low funds.
We determined that it may be possible to shorten the newsletter but still deliver the newsletter door to door, depending on funds. If you have not paid this year's dues, consider doing so today!
I gave an update on the Career Center redevelopment.
The Career Center Working Group excepts to have a report published at the end of the month.
A representative from Arlington DES also spoke at our meeting.
DES will begin bike lane improvements on South 9th St. this fall.
Note that the improvements will result in the net loss of 2 parking spaces on South 9th.
Our neighborhood has two use permits pending: one for an in-home day care on South Fillmore St. (Penrose), and one for transitional housing on South Glebe Rd. (Alcova Heights).
Please let me know ASAP if you have any further questions or comments on these use permits.
We are planning a social event (BBQ/picnic) for this early fall. Stay tuned for announcements!
Our next meeting is scheduled for Tuesday, November 14, 2018, 7 to 9 pm.
Thank you,
Kristi Rupert Sawert
AHCA, President
Fleet Elementary School construction update
August 15, 2018
Please see the Fleet Elementary School construction update presented by Steve Stricker at our meeting on August 15
Mr. Stricker reported that the construction schedule is recovering, and APS is confident that the school will be completed for occupancy for the fall 2019 school year.
In addition, I invite you to view Career Center Working Group public information presentations, updated as needed.
Career Center Working Group's final meeting is Monday, August 20, 8:00-10:00 AM, at County Building, Bozman Government Center in Courthouse Plaza, 2100 Clarendon Boulevard, Lobby Level Cherry/Dogwood Conference Room, located near the elevators.
We will discuss the report that will be delivered to Arlington Public Schools and Arlington County Board at the end of the month.
Public comment will occur at the end of the meeting. THIS IS YOUR FINAL OPPORTUNITY TO COMMENT ON THE REPORT.
Please join us at our next AHCA meeting on Tuesday, November 14, 2018, 7 to 8:30 pm, at the Thomas Jefferson Middle School Library.
If you have not yet renewed / joined AHCA for 2018, please see our membership page at ahca.info/about/join
We need your ongoing support for our quarterly newsletter Over The Fence
See you at the County Fair!

Kristi Rupert Sawert, President
Arlington Heights Civic Association
ARLINGTON HEIGHTS CIVIC ASSOCIATION
RESOLUTION
Passed April 10, 2018
WHEREAS, Arlington Public Schools (APS) is planning for the expected growth in high school enrollment and approved the planning for 700-800+ additional high school seats to be added at the Career Center, and the Arlington Tech program is expected to grow to 800 students by 2022;
WHEREAS, the Career Center Working Group (CCWG) is charged with developing a plan that defines how APS can open 700-800+ additional seats to the Career Center site by 2022, within funding already approved by the School Board, and the CCWG will provide options for optimizing future development of public facilities within the study area through a phased development plan;
WHEREAS, Arlington's three existing comprehensive high schools have already been internally maximized, and their academic and extracurricular programs cannot support significant additional growth;
WHEREAS, schools are public facilities, jointly funded by all taxpayers, and therefore all of Arlingtons comprehensive high schools should offer equitable academic and extracurricular opportunities;
WHEREAS, the 22204 ZIP code (in which the Career Center is located) has a higher concentration of low-income residents and families than many other areas of Arlington, and these families already face many resource challenges, such as: (a) childcare affordability, (b) affordable enrichment/tutoring opportunities, (b) scheduling conflicts due to working multiple jobs, (c) dependence on public transportation, and reliance on public facilities, like libraries and community centers;
WHEREAS, studies have shown that low-income and/or minority children have higher instances of drowning, but busing to offsite pools would cut into required academic instructional time;
WHEREAS, the Career Center/Patrick Henry site offers the rare combination of: (a) a physically large parcel of land, (b) a central-Arlington location, and (c) high-accessibility to public transportation; joint-use amenities would provide much-needed recreation, meeting, and performance spaces for ALL of Arlington; and an improved connection to Columbia Pike would draw new and strengthen existing local businesses;
WHEREAS, inequality of funding and/or facilities by 2022 could ultimately result in substandard educational opportunities for 22204 students, which could, in turn, lead to a decline in business, community, and residential support for both this school and the 22204 ZIP code.
NOW, THEREFORE, be it resolved that:
Arlington Heights Civic Association (AHCA) favors and supports a comprehensive neighborhood high school at the Career Center;
AHCA opposes adding comprehensive high school seats to the Career Center without facilities equivalent to or exceeding those of the three existing comprehensive high schools, including but not limited to: an aquatics facility, art/music/performing arts/auditorium, library/media center, full-size gymnasium and auxiliary gymnasium, outdoor field space and commons, and structured (underground) parking;
AHCA favors and supports the acquisition of properties south of the Career Center along Columbia Pike, that would (a) provide a needed connection between the Career Center and Columbia Pike, (b) provide additional space that could be used to house programs now located at the Career Center, and (c) free up space on the Career Center site for other uses;
AHCA favors and supports the relocation of the Columbia Pike library to a new building to be built at or about Columbia Pike and South Highland Street;
AHCA favors and supports postponing the addition of additional high school seats to the Career Center by two (2) years to 2024 in order to obtain additional funding during the CIP; and
AHCA requests that any proposal to add high school seats at the Career Center should include a detailed plan, both physical and financial, for construction and for the educational and extracurricular opportunities that will be offered to students attending school there.
CAREER CENTER REDEVELOPMENT: WHAT DO YOU WANT TO SEE HAPPEN AT THE 12 ACRE SITE?
Arlington Heights is home to a 12-acre plot of land known as the Career Center site. Arlington Public Schools (APS) and Arlington County (AC) have committed this site for redevelopment. They have divided the land into two "blocks": the "North Block," which is owned by APS, and the "South Block," which is owed by private property owners. The North Block is currently home to Patrick Henry Elementary School, Arlington Community High School, Career Center, and Arlington Tech High School, and serves approximately 2000 students.
APS HAS DECIDED TO ADD 1300+ HIGH SCHOOL SEATS TO THE CAREER CENTER SITE. APS and AC formed the Career Center Working Group (CCWG) to evaluate the site, and to recommend how the site may be developed in phases to accommodate these additional high school seats and associated facilities and community amenities. This is NOT a debate about whether the site is getting high school seats and construction. The debate is what kind of seats (i.e., neighborhood or choice seats), the construction timeline, and what types of amenities will be placed on the site.
As shown here, APS's architects proposed building a third level onto the Career Center building and extending the building's footprint in almost all directions. For example, the Career Center building expansion would have added a 3-story building adjacent to Highland Street.As you can see, the plan simply crams another 1300+ students to the site, takes away what little green space remains, provides no additional parking, no plan for the additional traffic and buses, and no amenities for our neighborhood.

AHCA President
AHCA 2017 Annual Meeting
November 15, 2017
Dear Neighbors:
Thanks to all who attended AHCA's Annual Meeting on Tuesday evening, we had a great turnout of more than 20 people. For those who couldn't make it, here's a summary:
Capt. Adrienne Quigley and Sgt. Damon Washington of the Arlington County Police Department noted some recent crimes to be aware of in our area, including the sexual assault in Shirlington and a number of car break-ins, including at the TJ Community Center parking lot. They reminded us not to leave valuables visible in our parked cars, and to stay alert to our surroundings instead of our phones, especially at night. Heading into the holidays, they reminded us to prevent package thefts by alerting a neighbor to any packages we're expecting when not home, so deliveries can be safely tucked out of sight. A neighbor helpfully noted that FedEx and UPS packages can now be delivered to U.S. Post Office boxes.
The School and County Boards are forming a Career Center Working Group (CCWG) for community input into school plans for that site. Civic associations near the site are currently allotted one voting seat on the working group. Because the Career Center site is within Arlington Heights, AHCA requested an additional seat on the CCWG, plus a seat for an "immediate neighbor" who lives especially proximate to the site. Last week, I nominated Kristi Sawert as AHCA's first appointee to the CCWG. If AHCA receives its requested additional appointees, the new AHCA president will make those appointments.
I am pleased to announce that Kristi Sawert was elected AHCA's new President. She has lived in Arlington Heights for 16 years, "first as a single woman with a dog, and now as a married woman with three kids." She and others including Megan Haydasz have already been working hard to ensure our community's voice is heard with regard to Career Center site planning. Kristi serves on the County's Aquatics Committee, which promotes equity in access to swim facilities around the County, and specifically advocates for a swimming pool at each neighborhood high school, including a fourth comprehensive high school many hope will ultimately be built at the Career Center campus.
I am also pleased to announce the election of Jay Vennett as AHCA's new 2nd Vice President. Kristi and Jay assumed office immediately upon election. Our By-laws provide for a transition period of a couple months between now and AHCA's first quarterly meeting of 2018.
Evan Farley was re-elected as AHCA's 1st Vice President, and Scott Winn was re-elected Treasurer. Thanks Jay for stepping up, and Evan and Scott for providing continuity on AHCA's Executive Committee. Our neighborhood is in good hands with these four at the helm. The office of Secretary is open, and anyone interested in the position can contact the new Executive Committee.
It has been my honor and privilege to serve Arlington Heights for the past couple years as civic association President. There's a lot happening in our neighborhood, whether in planning (Career Center), construction (new elementary) or perpetuity (County Fair, etc.), and our neighbors reliably bring energy, expertise and attention to issues that arise. Thanks for having allowed me to serve such an impressive community.

Arlington Heights Civic Association
New Signs for an Old Street
October 30, 2017
On Monday, October 30, Arlington Heights became a safer place.
For many years, citizens of Arlington Heights have asked for traffic calming measures at 2nd Street South and South Irving Street in neighborhood conservation plans, and more recently, more than 500 neighbors petitioned Arlington County to add a four-way ("all-way") stop at the corner of 2nd Street South and South Irving Street.
Today, that dream became a reality.
At that intersection, 80 to, at times, more than 100 students cross 2nd Street South each morning from the 200 to 900 blocks of South Irving Street, perhaps the oldest street in Arlington Heights, to go to school at Thomas Jefferson Middle School.
The increased traffic on 2nd Street South caused by construction of the new elementary school exacerbated pedestrian danger at 2nd Street South and South Irving Street. Traffic on 2nd Street South was already hazardous since the street run between two Virginia state highways, South Glebe Road (Route 120) to Washington Boulevard (Route 27), from a commercial district to an entrance to Fort Myer.
Soon, many more students will cross at that intersection when construction is completed on the new school to the west of TJ.
HISTORY:
On the morning of September 20, 2017, Thomas Jefferson Middle School parent and Arlington Heights resident Alisa Key witnessed a TJ student nearly get hit in the crosswalk at 2nd Street South and South Irving Streets when an Arlington County truck failed to yield to the student in the crosswalk.
Key "rallied the troops" -- her neighbors Liz Fried, Colleen Godbout, and Susannah Keefe -- and they joined her the next morning at the intersection and saw yet another TJ student also nearly hit when a vehicle failed to yield to the student in the crosswalk.
This group of four concerned parents knew they had to act and embarked on effort of outreach to Arlington County Board, Arlington School Board, Thomas Jefferson Middle School, Arlington County Police Department, Arlington County Department of Environmental Services (DES, managers of County street signs), Arlington County Pedestrian Advisory Commission, Arlington Safe Routes to School program leaders, friends, the community, and others.
They met with County and Arlington Public School officials; spoke at meetings of PTAs, County Board, and School Board; solicited volunteers to help them at the intersection; and invited County officials who joined them at the intersection to see what they saw each morning.
They also collected more than 500 signatures on an on-line petition and presented those signatures to County Board and School Board.
From the beginning, they sought an all-way ("four-way") stop and a crossing guard, among other traffic calming and safety measures. Through their persistence, perseverance, and hard work, the petitioners convinced DES to open a study of the intersection. After fast-track consideration because of the clear risks involved to student and pedestrian safety, DES determined that an all-way stop was warranted, in a report issued on October 13, four years after a similar determination against an all-way stop.
DES installed the all-way stop Monday, October 30.
Said TJ parent and Arlington Heights neighbor Alisa Key, "This is only one piece in the puzzle. The parents continue to seek a crossing guard at this intersection, but we have been facing resistance from those who oversee this function. This resistance presents a serious obstacle to that needed resource and safety measure. Nonetheless, we continue to be present at this intersection every morning since that first morning in September to ensure that those crossing can do so safely."
Arlington Heights Civic Association vice-president Evan Farley sent a letter of support for the all-way stop signs to Arlington School Board and Arlington County Board, reminding them of their commitment and obligations to pedestrian safety when they decided to add a school to the already crowded site of Thomas Jefferson Middle School, Park, and Community Center. After DES determined a all-way stop was warranted, AHCA's letter urged the County to provide interim measures to improve the safety of the neighborhood's school children until the all-way stop was installed.
Arlington Heights neighbors welcomed the new signs to the neighborhood in a flurry of e-mails following the installation.
Photographer and neighbor Jay Jacob Wind just happened to drive by at the very moment when Arlington County sign installer Kevin Boatwright and signage supervisor Marcus Butts installed the new signs.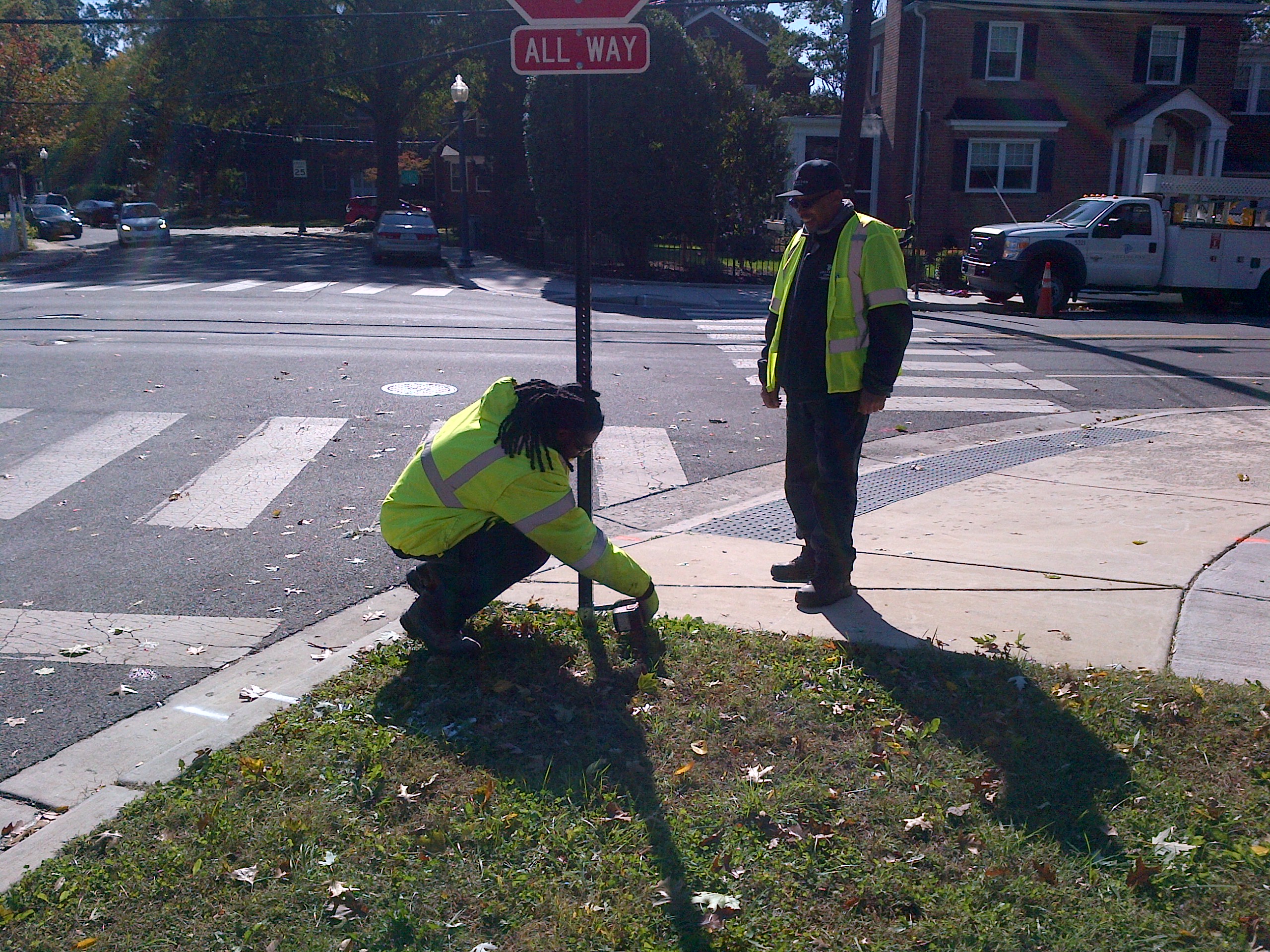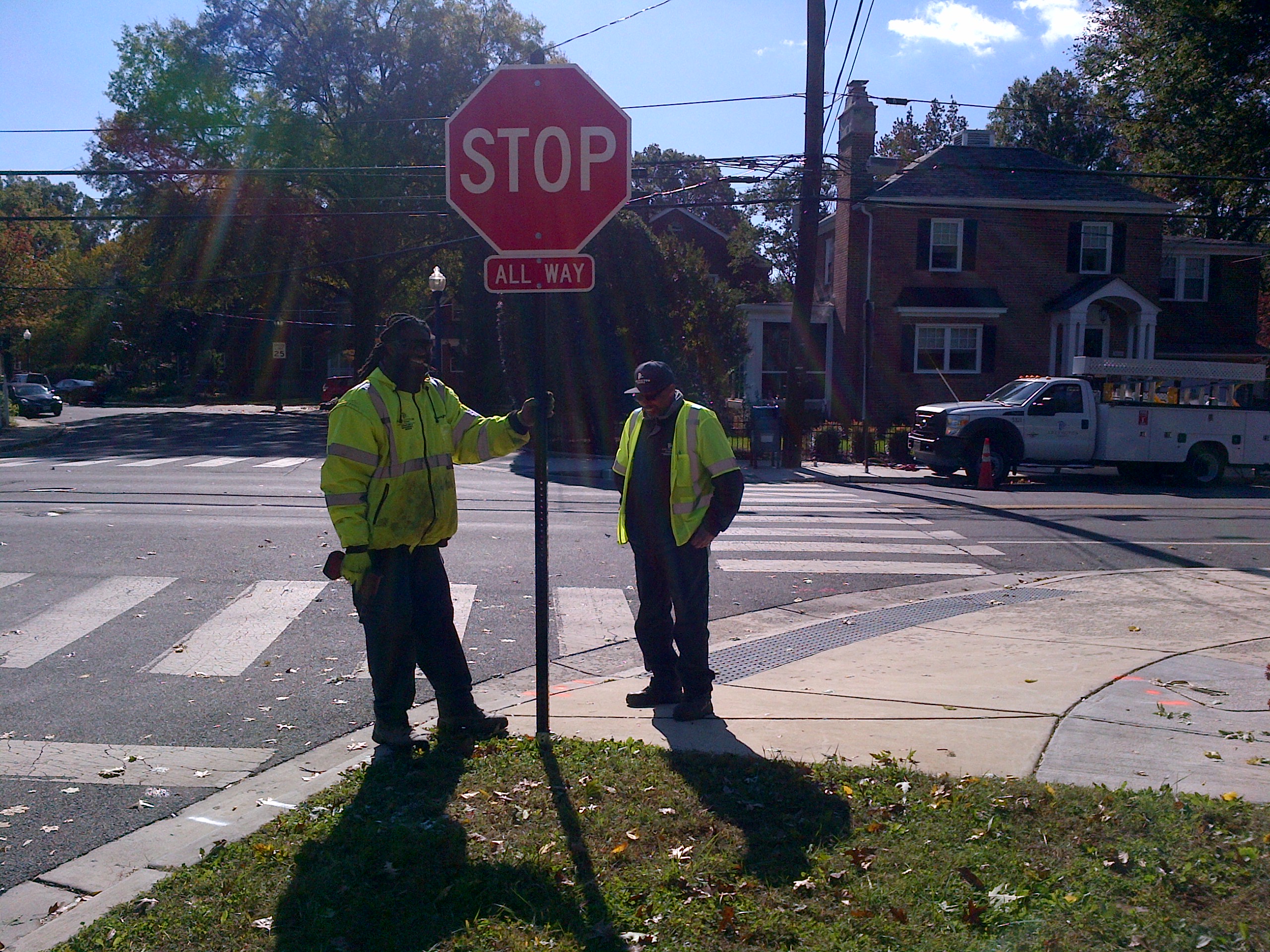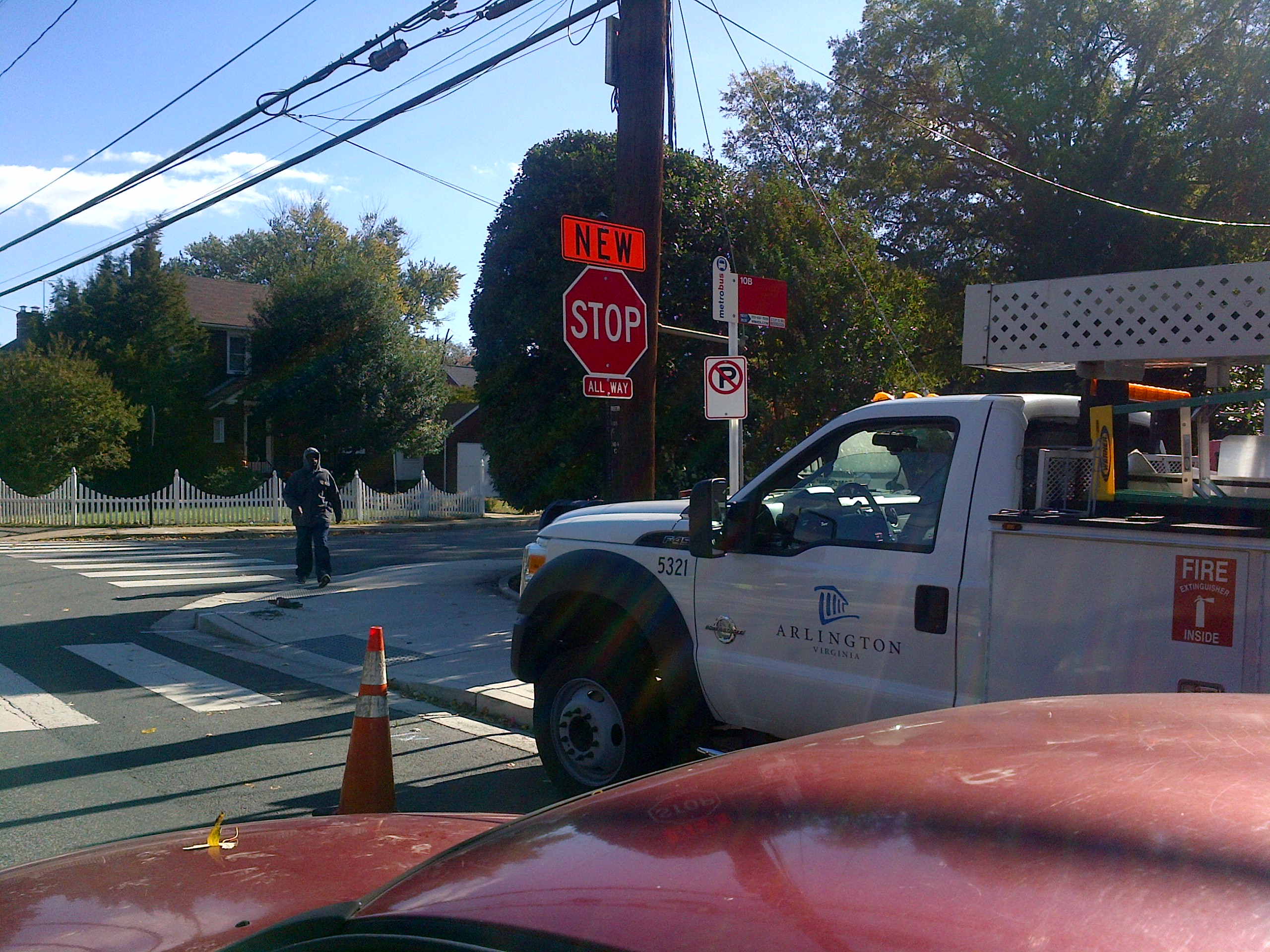 Arlington County sign installer Kevin Boatwright (left) and signage supervisor Marcus Butts
install new all-way stop signs at 2nd Street South and South Irving Street
Photos by
Jay Jacob Wind
© 2017 - All rights reserved
This article appeared on www.arlnow.com on October 4, 2017

Parents Petition for Traffic Calming Near Thomas Jefferson Middle School
by Katie Pyzyk, October 4, 2017 at 11:30 AM
Link to original article
Parents of Thomas Jefferson Middle School students are petitioning for traffic calming measures on a stretch of road near the school where they report witnessing a number of vehicle-pedestrian close calls.
They're asking for a crossing guard and a traffic-calming measure, such as a four-way stop, at the intersection of 2nd Street South and South Irving Street, which is a heavily-traveled pedestrian thoroughfare for students going to and from school.
The entire stretch of 2nd Street South near Thomas Jefferson Middle School, from Irving Street to Old Glebe Road, is well-traveled by vehicles and does not have four-way stops. Parents chose to ask for traffic calming at the Irving intersection because of the significant amount of both pedestrian and vehicle traffic at that particular spot. Plus it's one of the few streets in the neighborhood that runs uninterrupted all the way from [South Glebe Road] to Washington Blvd., making it easier for motorists to speed than on adjacent streets.
The intersection, like the others on 2nd Street, may not have four-way stops, but it does have painted pedestrian crosswalks. Neighborhood residents say motorists ignore people in the crosswalks, though, especially during morning and afternoon rush hours. "That's prime commuter time and prime school time," said TJ parent Alisa Key.
Key saw a girl nearly get hit while walking in the crosswalk to school, and that prompted her to take action. "I couldn't walk away from that without doing anything," she said. "In the past two weeks, we have had multiple near misses and countless instances of motorists disregarding kids in the crosswalk. We have taken it upon ourselves to help the kids cross safely because APS and the county have not."
The group of concerned parents invited county officials to visit the site to see the dangers that students and other pedestrians face. The group report[ed] that a number of representatives showed up from Arlington Public Schools, the county's Department of Environmental Services, the police department, and the County Board.
DES currently is collaborating with APS and police on reviewing the intersection and will report the results of the study next week. According to a DES spokesperson, "The traffic study consists of collecting additional traffic volume, speed and pedestrian volume data to determine whether a four-way stop meets federal standards (Manual on Uniform Traffic Control Devices)."
Parents are hopeful that the results next week indicate the need for increased safety measures, including a crossing guard. In the meantime, they have been taking turns positioning themselves at the crosswalk in the morning to make sure children get to school safely. They have also started an online petition requesting traffic calming measures, which has more than 400 signatures.
Parents are particularly worried about what happens when the volume of students increases upon completion of a new elementary school at the TJ site.
"The intersection at South Irving Street & 2nd Street South is a magnet for kids, bikers, walkers, etc. because there are currently three community attractions at this site - TJ Park, TJ Recreation Center, TJ Middle School, and soon-to-be-coming Fleet Elementary School," said concerned parent and Arlington Heights resident Colleen Godbout. "This intersection needs calming measures immediately. We can not wait for the accident that is inevitable here."
(END)
Thomas Jefferson Middle School Construction Logistics
June 16, 2017
Dear Neighbors:
Attached are 2 documents that should be forwarded to all staff and to the larger Jefferson Middle School community. The 2 documents are:
1. Site Logistics Plan During Construction. This is the general logistics plan for site operations for the duration of construction, from summer of 2017 to start of school in fall of 2019. The only thing missing from the plan at this point is the balance of staff parking (60 spaces) for the regular school year. We are still looking for these spaces and hope to secure them at Dominion Arms. Parking hours in the temporary lots are from 6:30 AM-5:00 PM.
2. Temporary Bus Dropoff and Pickup Operation. This is the specific plan for temporary bus operations for summer school 2017 and the regular 2017-2018 school year. Our plan is to have the new permanent bus loop operational for start of school in fall 2018.
Let me know if any questions.
Steve Stricker
Senior Project Manager
Arlington Public Schools
Department of Design & Construction Services
O 703-228-7749
C 571-220-0048
steven.stricker@apsva.us
AHCA Special Meeting - June 7, 2017
June 7, 2017
Dear Neighbors:
Thanks to all who attended last night's Special Meeting of Arlington Heights Civic Association. We engaged in a full discussion of the proposed Resolution, and amended it to reflect the neighborhood's views as well as possible. Thanks in particular to Susan Scott and Kristi Sawert for making the edits on the spot to reflect the discussion. After three hours of debate and editing, we passed the following Resolution:
WHEREAS, Arlington Public Schools (APS) has expressed its preference for a "hybrid" plan allocating the contemplated 1300 high school seats between the Career Center and Education Center sites with approximately 800 seats to the Career Center and only 500 seats to the Education Center, with a potential for another 600 -800 seats;
WHEREAS, the APS design process of selecting a site prior to proposing the school footprint or instructional program prevents optimal analysis of the choices and precludes informed consideration by the community;
WHEREAS, the Career Center site lacks amenities of other high schools such as sports fields, pool, and fine/performing arts facilities, so students attending any of the numerous current or future high school programs at the site might require transportation to other campuses to participate in sports or fine/performing arts;
WHEREAS, Arlington Heights neighborhood may be amenable to a comprehensive neighborhood high school incorporating the secondary programs currently at the Career Center, Arlington Tech High School, Arlington Community High School, and the Columbia Pike Public Library;
NOW, THEREFORE, be it resolved that:
Arlington Heights Civic Association (AHCA) opposes adding high school seats to the Career Center site without amenities equivalent to or exceeding those the three existing comprehensive high schools;
AHCA favors and supports retaining the existing Career Center, Arlington Tech and Arlington Community High School programs as they currently are co-located in the space;
AHCA supports a School Board vote in late June to allow the Ed Center expansion for new seats or swing space; and
AHCA requests postponement of the School Board vote on the hybrid seats proposed for the Career Center site until fall 2017, after meeting the following requests:
APS staff and School Board members meet with AHCA members and surrounding neighborhoods this summer to further explain the hybrid model and use of the Career Center/Patrick Henry and Arlington County Columbia Pike Library footprint - including without limitation a feasibility study of a comprehensive neighborhood high school with amenities equivalent to or exceeding the three existing high schools (including retention of existing secondary programs at the site); overall costs, pros, cons, new structure types, parking possibilities or any need for new parking structure, placement of the students and their focus at the Career Center and the Tech High School and whether any new pool or other structures are being considered; and
Conduct a comprehensive transportation study for full estimated population use of the Career Center site accounting for traffic needs for over 3000 students as well as traffic impact of the new elementary school at the Thomas Jefferson site.
We will share this Resolution with other civic associations affected by the plans for the Career Center site, and seek their coordination and support when we present the Resolution to the School Board. You may share your opinion directly with the School Board too, in writing and/or by speaking at a meeting. We hope as many neighbors as possible will attend and speak at the next School Board meeting on Thursday, June 15, 2017 at 7:30pm at the Ed Center at 1426 N. Quincy Street, Arlington VA 22207.
This web page www.apsva.us/contact-the-school-board explains how to contact the School Board, and this web page www.apsva.us/school-board-meetings/sign-up-to-speak explains how to sign up to speak at a School Board meeting.
We need to ensure our neighborhood is heard as clearly as all the others. Thanks everyone for participating to the extent possible.
Molly Calkins, President
Arlington Heights Civic Association
First Crocus of Spring 2018
February 20, 2018
South Irving Street
First Snowdrops of 2018
February 6, 2018
North Highland Street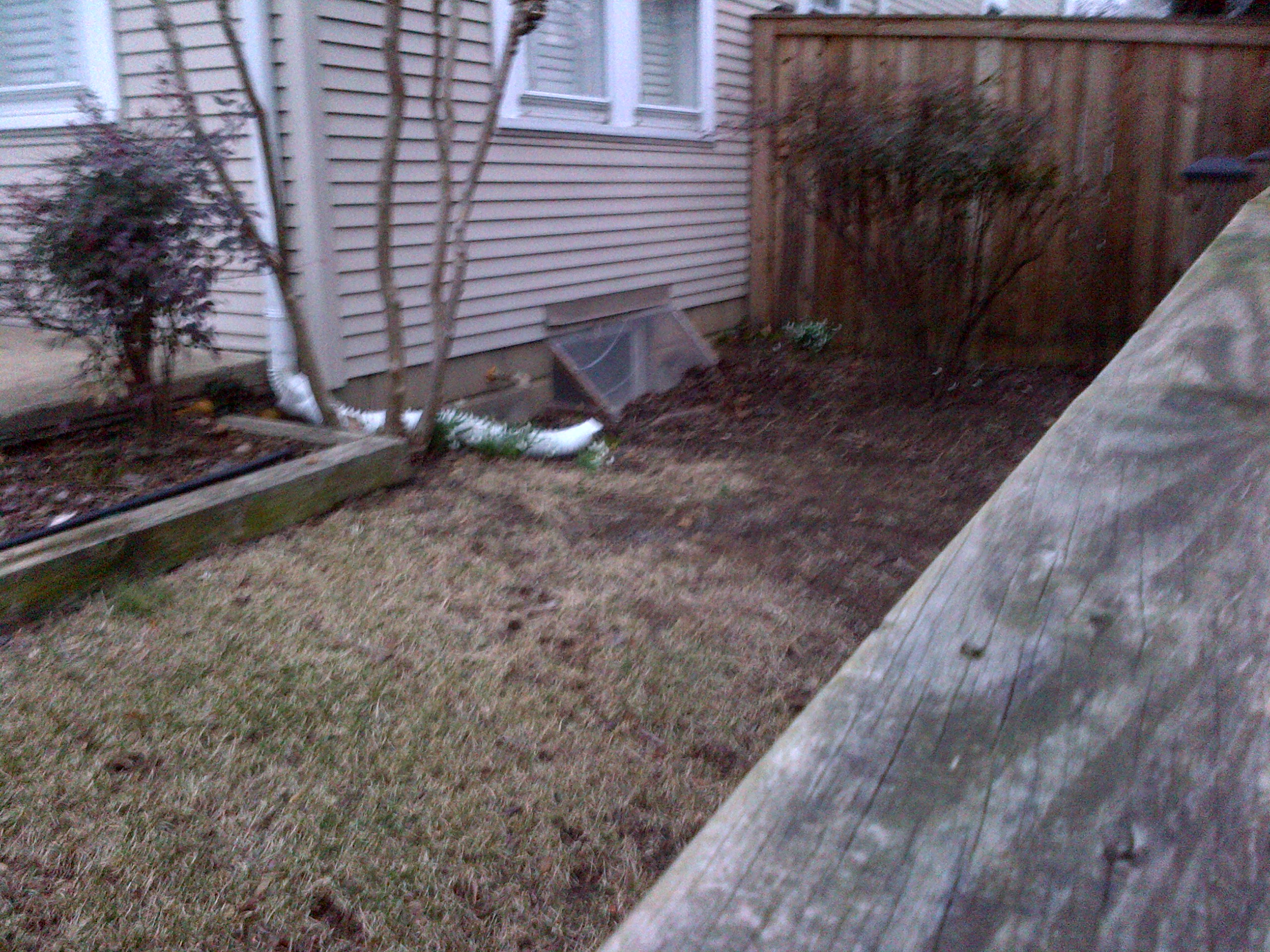 First Cicada of Spring 2017
May 12, 2017
South Ivy Street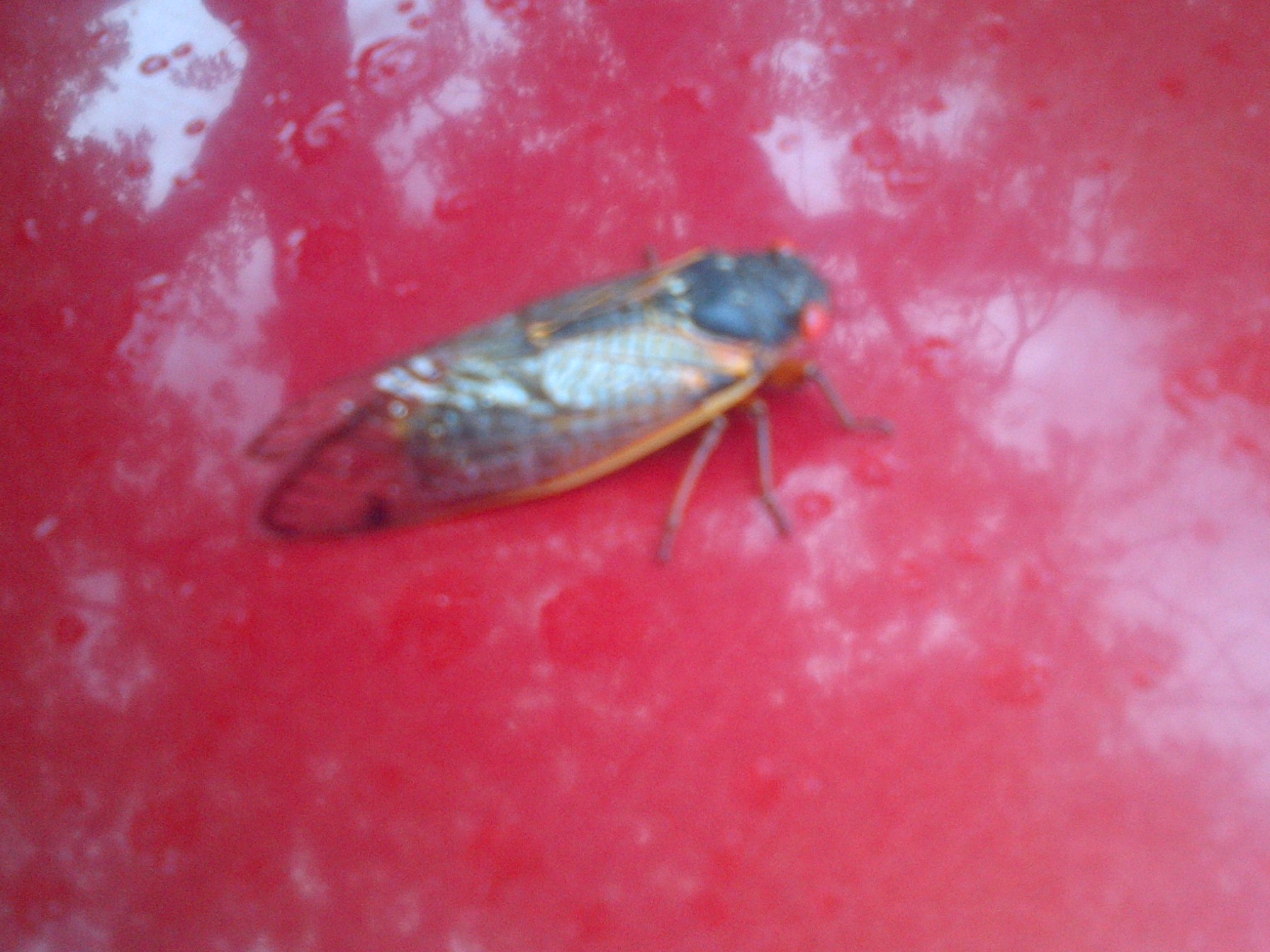 First Blooming Dogwood of Spring
February 24, 2017
South Irving Street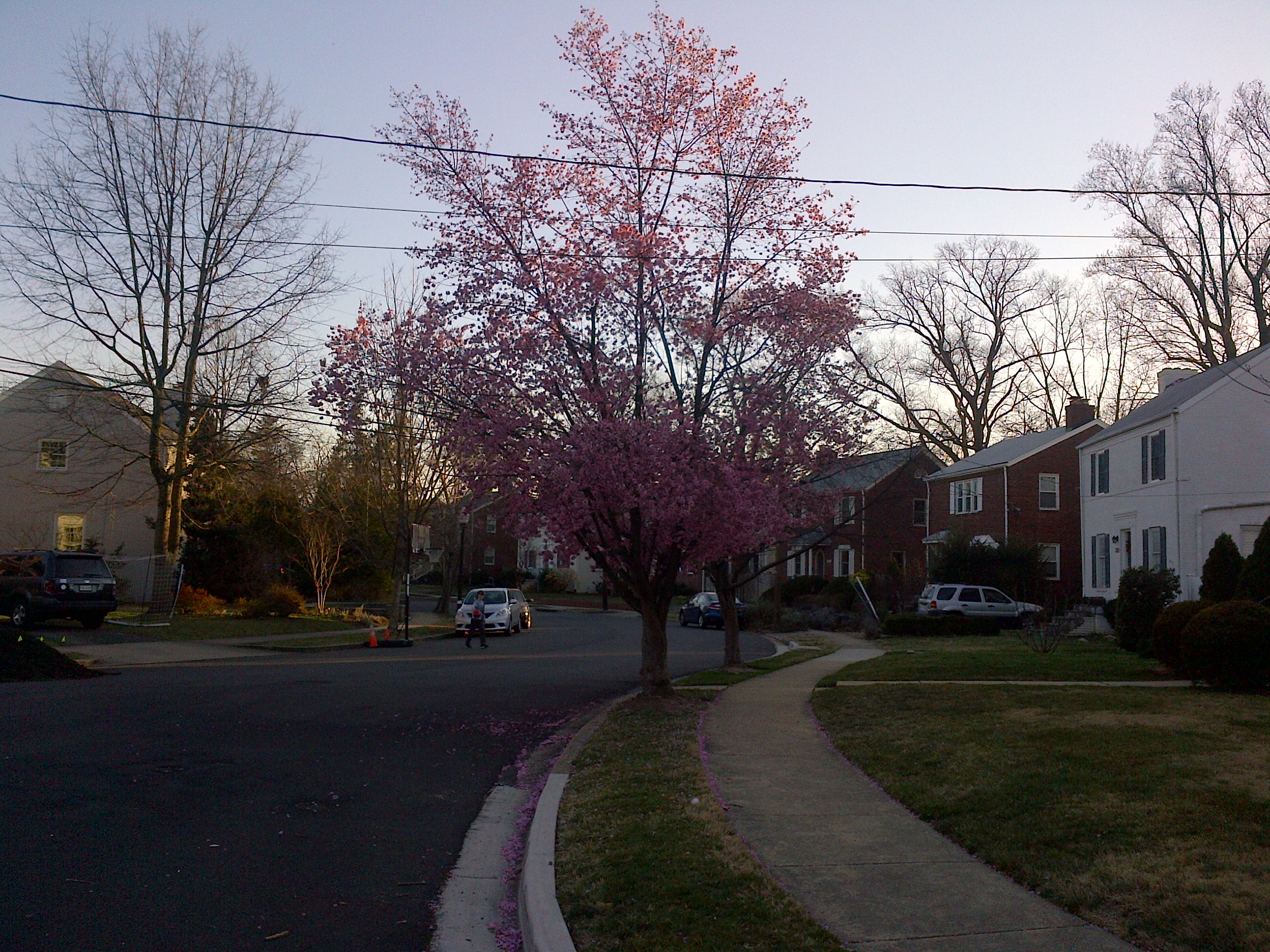 First Azalea of Spring
February 24, 2017
123 South Glebe Road, on the Glebe Road side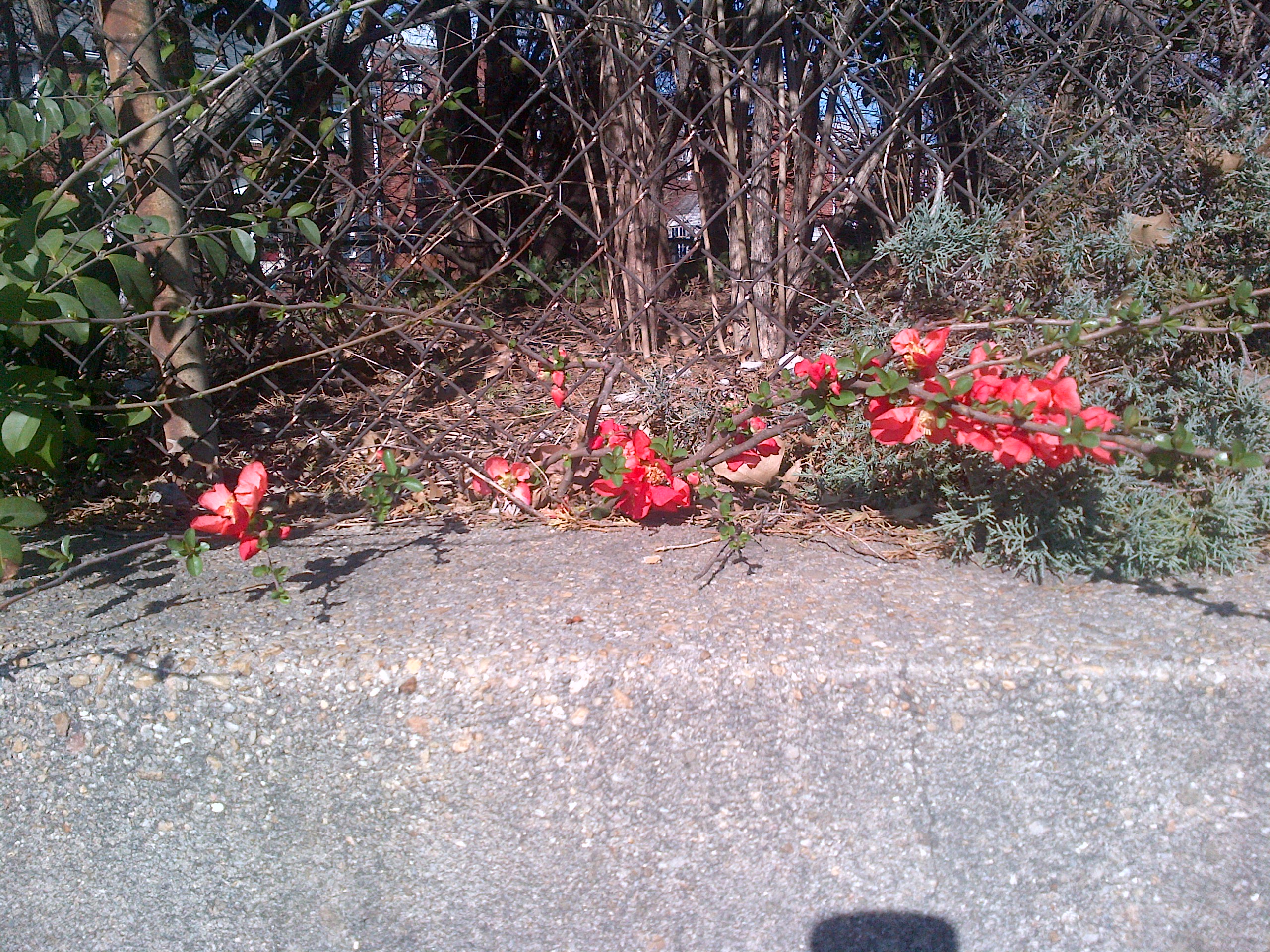 First Crocus of Spring
February 7, 2017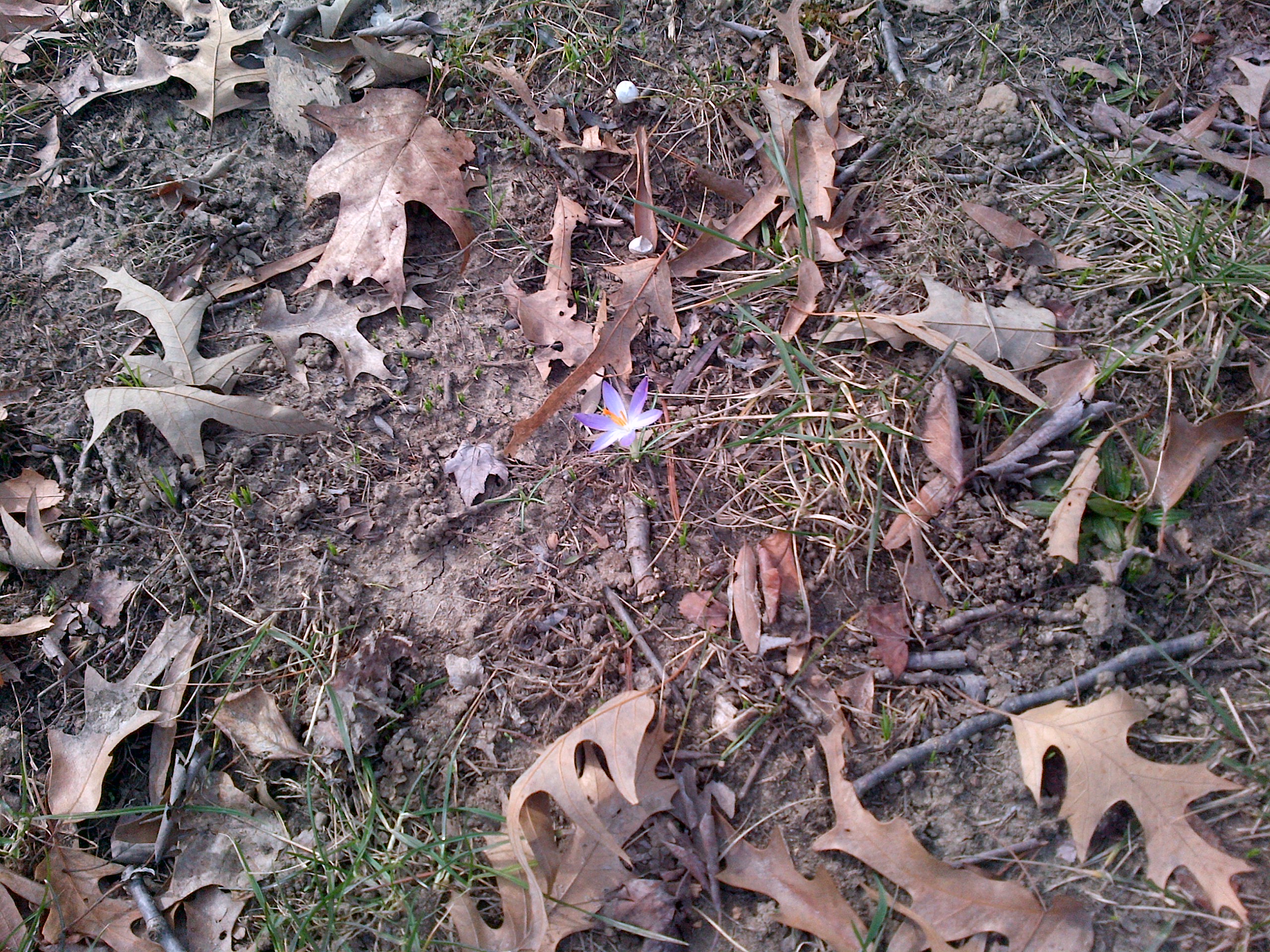 AHCA Meeting - February 7, 2017
Dear Neighbors:

Thanks to all who attended our quarterly Civic Association meeting on February 7. Here's a summary:
A neighbor took the initiative on the puzzling mail delivery issues. At the meeting, she described her interactions with Rep. Don Beyer's office about the mail issue, and how she started arrangements for him or a representative from his office to participate in our next quarterly meeting. Thank you!
We discussed the recent flurry of surveys and road markings around the neighborhood. For example, a neighbor noticed all manner of spray painted lines at South 7th and Garfield to South Highland, apparently marking for gas, water, sewer, fiber optic cable, etc., along with red plastic ties around trees, utility poles and light fixtures. Through some research, she learned that the architect that Arlington Public Schools recently hired for renovation work at the Career Center ordered a complete survey of the entire site, along with adjacent right-of-ways along 7th, 9th, Highland and S. Walter Reed, and 15 feet beyond the right-of-ways (i.e., residents' front yards).
We also learned that Arlington Public Schools has begun looking at sites for a fourth comprehensive high school. One proposed site is the Career Center.
The County Board will consider renewal of Arlington Cinema & Draft House's live entertainment use permit at the Feb. 25 County Board meeting. You can weigh in by commenting online, emailing the County Board and/or speaking at its Feb. 25 meeting. See https://countyboard.arlingtonva.us/meetings/speaking-procedures
Finally, I am pleased to announce our new and returning civic association officers:

Evan Farley was elected AHCA's new First Vice President. We welcome him onto AHCA's Executive Committee.
Scott Winn was re-elected AHCA's Treasurer. We're glad he's staying on as our well of institutional knowledge, neighborhood perspective, and all-around good counsel.

AHCA Secretary Susannah Keefe has served AHCA well for over a year, but opted not to stand for election again due to business and family commitments. (Darn! But we understand). Therefore, we still welcome nominations for civic association secretary.

President too. I've enjoyed serving as AHCA's president, but have considerably less time to devote to civic duties than I had the first year. In the absence of other candidates, I accepted re-nomination and was re-elected. I'm ready to pass the baton, but until we elect a new president, I won't leave AHCA without one, and I shall continue to serve as best I can. Feel free to contact me or any of the officers if you're even a little curious about the role and would like to learn more about what it entails.

See the first crocus of spring above on AHCA's homepage. Thanks to our webmaster Jay Jacob Wind for posting that photo yesterday.
A neighborhood Facebook page is in the works too, thanks to our newsletter editor, Claudia Winkler.
Thank you
Molly Calkins, president
AHCA welcomes our new Social Chair, Kristy Kelly, who hosted a fantastic Halloween Parade and Party last October and will organize our neighborhood picnic next summer.
AHCA also welcomes our new Newsletter Editor, Claudia Winkler, a communications professional who is already hard at work on the next issue of Over the Fence.
We are grateful to these enthusiastic volunteers who stepped into crucial civic association roles soon after moving into the neighborhood.

News from https://newsroom.arlingtonva.us/release/arlington-funds-six-neighborhood-conservation-projects
On September 27, 2016, Arlington County Board approved $127,154 for Arlington Heights streetlights project on 5th Street South to South Jackson Street.
LED Carlyle Style streetlights will be installed on 5th Street South, from Glebe Road to South Jackson Street, and the Colonial Style lights will be removed.
During Jay Jacob Wind's four years as AHCA president (1999-2003), following on past-president Jim Gill's efforts, we set as a priority and then successfully petitioned for Carlyle Style streetlights on every block of the interior of Arlington Heights:

1st Street South
2nd Street South
3rd Street South
5th Street South
6th Street South
7th Street South
9th Street South
9th Road South
South Fenwick Street
South Garfield Street
South Highland Street
South Hudson Street
South Irving Street
South Ivy Street
South Jackson Street
South Old Glebe Road

With the 5th Street South project approved, 14 to 17 years later, we see the cycle completed. On most of our neighborhood's streets, we can look north, south, east, and west, and see consistent, attractive, safe lighting. Every president since 2003 and many volunteers have kept that effort going. Along the way, we also got improvements to the Glebe Road bridge over Arlington Boulevard, sidewalks and lighting on Columbia Pike, a stop light at 2nd Street South and South Glebe Road, traffic calming on South Highland Street near Patrick Henry School, and new sidewalks on South Fillmore Street.

A big thank-you to everyone in Arlington Heights!


-- Thank you
-- Jay Jacob Wind
-- jay.wind@att.net
-- South Ivy Stret

AHCA Seeking Alternate Delegate for NCAC

Dear Neighbors,

AHCA needs an Alternate Delegate to the Neighborhood Conservation Advisory Committee (NCAC). Help Arlington Heights get its fair share of funding for neighborhood improvements, such as streetlight replacements and improvements, sidewalk repair, street and intersection enhancements, tree planting, greenspace improvement, neighborhood signage, and other enhancements. You'll get to attend monthly meetings with County planners and delegates from neighborhoods around the County to plan and decide how neighborhood conservation funds should be allotted and spent. We thank Eileen Janas for stepping up to be our new NC Delegate as of May 2016. NCAC allows us to appoint an Alternate also. If interested, please contact Molly Calkins at molly.calkins.ahca@gmail.com, or any member of the Executive Committee.

-- Thank you, Molly Calkins, president

Arlingon Heights Little Free Library

May 29, 2015

Arlington Heights now has its own Little Free Library in front of the Dhavale family home at 3104 6th Street South, installed as part of an Eagle Scout project. Come by to donate or borrow a book!


Patrick Henry Elementary receives Natiobnal Recognition

Dec 12, 2014

Dear Neighbors,

Our own neighborhood elementary has now received national recognition in addition to recent state awards. Congratulations to the whole Henry community for making this possible.

This just in from WTOP News (from AP):

2 Va. elementary schools earn national distinction

RICHMOND, Va. (AP) -- Two Virginia elementary schools are being recognized for their achievements.

The state Department of Education says Patrick Henry Elementary in Arlington County and High Point Elementary in Washington County have been named as Virginia's two 2014-2015 National Title I Distinguished Schools.

Representatives from the schools will be recognized by the National Association of State Title I Directors during the organization's annual conference in February in Salt Lake City.

Officials say the schools were selected from the 40 high- achieving Title I schools honored by the Virginia Board of Education in October.

Patrick Henry Elementary was selected for exceeding federal annual measurable objectives for two consecutive school years. High Point Elementary was chosen for its efforts to close achievement gaps among student subgroups over two consecutive years.
Thomas Jefferson Park Preservation Resolution
Dear Members:
On November 18, 2014, we sent a letter to Arlington County Board stating the resolution unanimously approved at our quarterly meeting on Wednesday, November 12, 2014:
WHEREAS Arlington Public Schools is proposing to build a school adjacent to the Thomas Jefferson Middle School, possibly intruding upon Thomas Jefferson Park,
WHEREAS Thomas Jefferson Park is an extremely valuable resource for Arlington and its Arlington Heights neighbors, where our children and families use the park for play and recreation, people walk their dogs, runners jog on its measured half-mile trail, neighborhood volunteers maintain the ornamental garden at the southeast corner of the park, and Thomas Jefferson Middle School students raise food in the park's organic vegetable garden for the Arlington Food Assistance Center,
WHEREAS Arlington Heights Civic Association deems the boundary of Thomas Jefferson Park to be as illustrated in Figure 1, (see Attachment 1)
BE IT RESOLVED THAT Arlington Heights Civic Association opposes Arlington Public Schools building a school, or any facility, that occupies, or infringes upon, any portion of Thomas Jefferson Park.
BE IT RESOLVED THAT Arlington Heights Civic Association strongly supports a comprehensive planning approach to the Thomas Jefferson site. Arlington Heights Civic Association is deeply concerned that building a new elementary school by 2018 on the Thomas Jefferson site would foreclose future improvements of the site.
Sincerely,
Stephen Hughes, President
Arlington Heights Civic Association