from ARLINGTON HEIGHTS CIVIC ASSOCIATION
President's Message
Please plan on joining us Tuesday, February 22 at 7 pm at the Patrick Henry Elementary School for our annual meeting. We will begin with a pot luck dinner, so please bring a dish, dessert or soft drinks to share. The major activity of our annual meeting is the annual election of officers and we are still accepting nominations, please contact Richard Bullington-McGuire if you are interested in a board position.
I have truly enjoyed the opportunity you have provided me to serve as President of the Arlington Heights Civic Association these past two years. I have learned a lot about the county government and met many wonderful neighbors over the course of the past two years. It has been my experience in other organizations that it often takes about 6 months to really get a good understanding of what a president position involves, so one can maximize their effectiveness serving two years in such a position. It has also been my observation that new ideas and fresh perspectives keep organizations forward moving and relevant and it is to everyone's advantage to provide opportunity for others to take on leadership roles, so having served two terms, I will not be running for re-election. I have enjoyed working with an outstanding group of officers, our past president, and volunteers who serve our community very well and am particularly grateful for their commitment to our neighborhood and our association. So to our newsletter editors, distributors, civic federation delegates, NCAC reps, social events organizers, snow brigade volunteers, Hurricane Isabel ice volunteers, traffic calming reps, Form based code contributors I thank you for your contributions from the bottom of my heart. And to all the great neighbors in AHCA who I met during my tenure, either on the phone, via email, in person or met while delivering the newsletter, it has been a pleasure to get to know you better, and I look forward to having more time to visit with many of you. We live in a special neighborhood. I encourage those of you who have not had an opportunity to be involved to attend the annual meeting to find out more about opportunities that may interest you, and to also meet some of the nicest people around, our neighbors.
Carole Lieber
Agenda
7:00 pot luck
7:30 meeting
Presentation on Community Emergency Response Team training
Introduction of new Third District reps (tentative)
Regular business

Treasurer's Report
Annual Dues
Review of Minutes
Committee Reports
Neighborhood Conservation Projects
New Business
Elections
List serve policy

Other business
Adjournment
Transportation for Seniors
Transportation options for Arlington seniors are outlined in a new brochure called, "Transportation at-a Glance." Available at senior centers, libraries, Courthouse Plaza or by calling the Office of Senior Adult Programs, 703-228-4721.
Save the Date – ARLINGTON NEIGHBORHOOD DAY
Arlington Neighborhood Day has been scheduled for Saturday, May 14, 2005. Stay tuned for more info about how Arlington Heights will participate.
Snow Shovel Help Available
Do you, or a neighbor you know, need help with shoveling snow? Many of your neighbors have volunteered to help with snow shoveling for persons unable to shovel their driveway and sidewalk after snow storms. Contact Matthew Morrissey at 703-521-4144, or e-mail at matthewcom@verizon.net, for more information. Kudos to Matthew for organizing this great team!
Neighborhood Knitters
Do you knit or crochet? Some of your neighbors have gotten together for a social knitting circle every two weeks. We meet for 2 hours at each other's houses on Sunday afternoons from 2-4pm. If you would like to join our group, please email Amy Vennett at jajvennett@earthlink.net
Potomac River Watershed Forum
Wednesday, March 9, 7 to 9:30 p.m. The Potomac River Watershed: An Interactive Forum. Organized in conjunction with the Arlingtonians for a Clean Environment annual meeting. NRECA, 4301 Wilson Blvd, Arlington. Learn about issues facing the Potomac River with a panel including Matthew Logan, Executive Director of the Potomac Conservancy; Jim Connolly, Executive Director of the Anacostia Watershed Society; and Jim Cummins, Director of Living Resources with the Interstate Commission on the Potomac River Basin. The evening will also include ACE Board of Director elections and announcements about upcoming volunteer events. Free with refreshments and door prizes. More information: 703-228-6427 or office@arlingtonenvironment.org.
RENT-A-KID
Jay Wind, (703) 920-5193. Daughter available for:
Babysitting
Pet/plant sitting
House sitting
Sharon & David Kinsman, (703) 892-1472. Son available for:
Pet sitting
Snow shoveling
Kathy & Mike Jackson, (703) 920-9534. Son available for:
Amy & Jay Vennettt, (703) 920-1832. Son available for:
Pet sitting
Dog walking
Snow shoveling
Leaf- raking
Would your child like to be added to our RENT-A-KID resource? Email Betty Siegel at siegelbr@hotmail.com for inclusion in our next newsletter.
AHCA OFFICERS FOR 2004
---
COOK
DESIGN/BUILD REMODELING
Since 1987
Additions
Pop Tops / Second Floors
Kitchens • Baths
Family Rooms
Master Suites • Basements
(703) 536-0900
We are easy to talk to! Call us to discuss your project!
5521 Lee Highway, Arlington, Virginia 22207
Class "A" License~Insured, License #2705-07815A
---
Neighbor's Recommendations – Car Care
We HIGHLY recommend Jim and Danny's automotive. One does American cars and the other foriegn, although I always get them confused. Here are their numbers.. They work together, and in the same garage, but have different phone #s. I'd start with Jim.. They are both at 4961 10th St. (off Columbia pike just after 4 mile Run) - Jim's Auto — 703 931 9431 and Danny's - 703 671 2427
We use Brett Holleman. He works out of his garage on N. 20th Rd., across from St. Agnes in Cherrydale. We have used him for years, as have my in-laws. He's always honest and friendly. His # is 703-243-2144
We've been using Pete Thompson for about 8 years now. He comes to us and only works on Hondas. I couldn't recommend anyone more highly. He's honest and hard working and more knowledgeable than some of the dealership mechanics. (He's also dealer trained). We met him and started using him when he would come to my wife's office and service a bunch of employees' cars at once. Very convenient and reasonable, but more than that—trustworthy. Peter Thompson: 301-315-0332.
Searching your Roots?
Arlington County Librarians can help! Learn how to research family roots via the Internet and using the HeritageQuest Online Wed., Apr. 27, 1:00 p.m. at Lee Senior Center, 5722 Le Highway. Call to register, 703-228-0555. Senior Law Day
Tues., May 3 is Senior Law Day-an annual event in the observance of May as Older Americans Month. Seniors are invited to the DHS Bldg., 3033 Wilson Blvd., 7th floor, for a program of workshops and guest speakers featuring a wide array of legal, financial and practical information. Also on the agenda, Medicare changes and Virginia's pilot project on planning for Long-Term Care. For more information call 703-228-4745.
---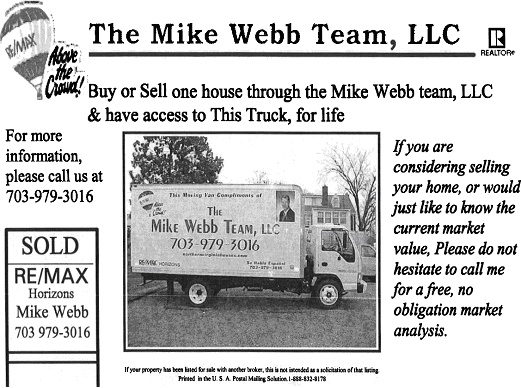 ---
Write to AHCA-subscribe@yahoogroups.com and get involved with the neighborhood. E-mail topics include construction, lost cats, advice on vendors, information about meetings, and other fun stuff! Join today!