from ARLINGTON HEIGHTS CIVIC ASSOCIATION
President's Message
Our next meeting will be Tuesday, July 19th at 7:30PM at Patrick Henry Elementary School. We will have two presentations. The first will be from representatives of the Arlington County Fair which will be returning to Thomas Jefferson middle school August 18-21. There will be a short presentation about the fair followed by a chance for anyone to ask any questions they have about the fair. After that Captain Paul Larson from the Arlington County Police Department will give a presentation and answer questions about crime in the third district and our neighborhood.
We will also be considering a motion tabled from last meeting regarding TJ. The motion from the draft minutes of last meeting is: "That AHCA ask the County to take action on the lights on the track at the north side of TJ's athletic fields and to examine the particulate matter of the Bluestone soccer field." Much of the discussion of the motion involved asking the county to convert the field to synthetic grass as it seemed the only viable option to solve the dust problem of the field. The motion was tabled for lack of a quorum, but also to give more people a chance to comment because of previous AHCA involvement in plans to convert TJ to synthetic grass. This motion has no relation to the Marymount University proposal from a few years ago, as I'm sure the neighborhood would still reject any similar plans. It merely involves asking the county to continue to use the field in the same manner as it is currently used, but to solve the dust problem by converting the field to synthetic grass.
As I said in the last newsletter, one of my main goals for AHCA meetings is to reduce the total length of the meetings to encourage more people to attend. While this worked to some extent at the last meeting, I've decided to include time limits for each planned agenda item for this meeting. I'm not interested in stifling discussion, and will entertain any motions to extend time for any item. I do want to make sure that as many people who want to can express an opinion and I feel the best way to do that is to make the meetings as easy and enjoyable to attend as possible. So I will be enforcing the time limits and requiring motions to extend time for any of the planned agenda items. While our agenda is very full for this meeting, I am going to do my best to keep the entire meeting under an hour and a half. I hope this will encourage anyone who has thought our meetings are too long in the past to begin attending again.
I'd also like to announce that AHCA, thanks to Cathy Camp and Jay Wind, has taken the initial steps to obtain small park enhancement grant funds. Our application is for a beautification project along route 50 near Irving Street. The exact details of the project will be worked out during the application process but the goal is to add plants and trees to create a more beautiful entrance to our neighborhood.
I'd also like to report on the success of two AHCA involved activities since last meeting. We had a joint yard sale at Patrick Henry with the Penrose neighborhood organized by Amy Vennett. I was out of town and unable to attend, but I hear it was a great event. It also was a great fund raiser for AHCA. The AHCA also cosponsored a fun run that was organized by the PTA at Patrick Henry. I was able to attend this one and can say that it was very well attended and enjoyed by the many children who ran.
I hope to see you at our next meeting.
Adam Croswell
President
AHCA Meeting Agenda
Tuesday, July 19, 2005
Agenda
Introductions (3 minutes)
Guest Speakers
County Fair Representative (20 minutes)
Arlington County Police Update (20 minutes)
Review of Minutes (3 minutes)
Treasurer's Report (5 minutes)
Neighborhood Conservation report and approval of priorities (5 minutes)
Civic Federation Report (5 minutes)
Committee Reports
Old Business
Motion regarding athletic fields at TJ (20 minutes)
New Business
Adjournment
2005 Officers:
Be Part of the Revitalization of Columbia Pike!
Arlington Heights Civic Association is looking for representatives for the Columbia Pike Implementation Team. If you're interested in representing AHCA at these meetings on the first Wednesday evening of every month please let me know.
Here's a description of the CPIT from Betty Siegel who is our current representative: When the form based code was adopted the streetscape and width was left out on purpose and a team of county residents and members of various commissions was appointed by the County Board to make recommendations. That Columbia Pike Streetscape Task Force worked for about a year and made recommendations, one of which was that an implementation team be put into place to ensure that the Pike vision was carried out. CPIT is the Columbia Pike Implementation Team and is made up of County Staff and representatives of neighborhoods along the Pike.
Your Neighborhood Needs YOU!
AHCA is seeking volunteers for a number of important roles. We need people to represent the neighborhood at the County Fair, people to coordinate distribution of this newsletter, and representatives on various boards. Please contact Adam Croswell or Kimberly Sumner for more information! Please think about becoming involved – it's a great way to get to know your neighbors and learn more about where you live!
Would your child like to be added to our RENT-A-KID resource?
Rent-a-kid is a free listing of kids in the neighborhood who are available for hire to babysit, housesit, pet care, lawn care, etc. Email Betty Siegel at siegelbr@hotmail.com for inclusion in our next newsletter.
Does your House Have a Missing Link?
Through the Neighborhood Conservation program the county has budgeted $100,000 per year for the Missing Links Program which attempts to complete portions of missing sidewalks in residential areas that span three properties or less. The budget allows for four to six projects to be completed per year. Each civic association is allowed one project application per year. AHCA is currently trying to identify the location in our neighborhood that gives us the greatest chance at being awarded one of the four to six projects. The program is intended for the quick installation of curb, gutter, and sidewalk in front of three or less properties for the connection of existing sidewalks. All property owners with properties requesting a Missing Link must sign the application. Locations must have no tree removal, no retaining walls, no utility relocation, and no streetlight installation involved. If you know of a location that might qualify, or are a property owner who would like to request that your property be considered, please contact Adam Croswell at acroswel@rocketmail.com or 703-553-0523.
May Crime Statistics
| | Assault | Burglary | Larceny | Rape | Robbery | Sodomy | Veh Theft | Total |
| --- | --- | --- | --- | --- | --- | --- | --- | --- |
| 3rd District | 1 | 9 | 36 | 1 | 9 | 1 | 7 | 64 |
| County | 7 | 18 | 95 | 1 | 6 | 0 | 21 | 148 |
| Total | 8 | 27 | 131 | 2 | 15 | 1 | 28 | 212 |
Note that the 3rd District is much larger than just Arlington Heights.
Crime Prevention Tips (from your neighborhood Police Dept.)
First. Always lock your front door and your back door with the deadbolt. Close and lock all windows.
Second. Nothing should be left in your vehicle. No cellphones, CDs, sunglasses, sweaters, leather jackets, or golf clubs.
Third. Carry no more in your purse or backpack than you need for the day and can afford to lose.
Fourth. Shred anything which shows personal information.
Fifth. Do not leave mail in your residential mailbox for the mailman to pick up.
Sixth. Graffiti should be reported immediately to the non-emergency number 703-558-2222.
Seventh. Do not leave your garage door open displaying valuable tools, sports equipment or bicycles.
Eighth. When at work do not leave your purse by your desk or your wallet in your jacket on the back of the door. Question all strangers entering.
Ninth. For your personal protection, stay alert while driving, on the Metro and walking.
Tenth. Take advantage of the FREE security surveys and presentations offered by the Arlington County Police Department Crime Prevention Unit.
Write to AHCA-subscribe@yahoogroups.com and get involved with the neighborhood.
E-mail topics include construction, lost cats, advice on vendors, information about meetings, and other fun stuff! Join today!
Do you want to Help Solve Crime in Our Neighborhood?
Crime Solvers is a community-based program that works to solve crimes by combining the efforts of the business and civic communities, law enforcement (ACPD) and news media. The key to the program is tipster anonymity - callers are not subject to Caller ID and line traces, callers are not required to give their names and a code is given to each caller so they can track case progress. Citizens are encouraged to call a toll-free hotline, and tips that lead to prosecution are rewarded up to $1000. Rewarding tipsters works, but not everyone can afford to put up a reward. That's why Crime Solvers is reaching out to businesses.
Some of the qualifications for being on the board are as follows:
Attend Crime Solvers meeting
Promote Crime Solvers
Be able to keep confidential information confidential
Interest in fund raising for the group
High integrity
Work well with others
Anyone interested should contact Mr. Gregg Kurasz, interim President at 703-534-5220 or kurasz@erols.com
---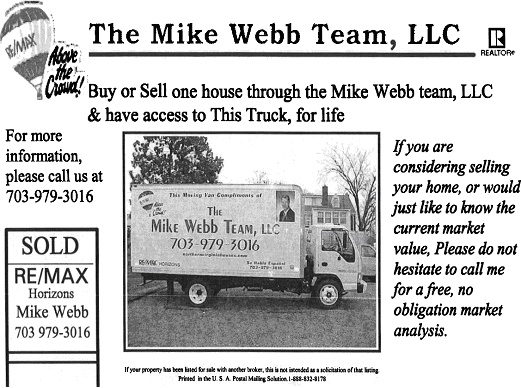 ---
COOK
DESIGN/BUILD REMODELING
Since 1987
Additions
Pop Tops / Second Floors
Kitchens • Baths
Family Rooms
Master Suites • Basements
(703) 536-0900
We are easy to talk to! Call us to discuss your project!
5521 Lee Highway, Arlington, Virginia 22207
Class "A" License~Insured, License #2705-07815A