The redesign of the park is now complete: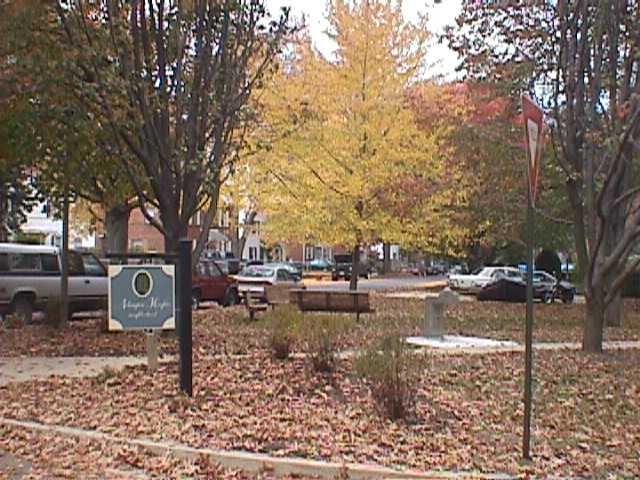 Proposed Re-Design of "South Park"
At our quarterly membership meeting, Tuesday, April 20, AHCA decided to ask Arlington County to include both landscaping AND an open play area in the re-design of "South Park" at the corner of South Irving and 9th Street.
[Note: We aren't really going to call it "South Park." We have asked Arlington's Park and Recreation Commission to name it "Arlington Heights Park," once the park with that name in the Penrose Neighborhood (formerly "Central Arlington") gets re-named "Penrose Park." At its March meeting, the Park Commission sent our request to the two other commissions that must review park namings.]
On Wednesday, July 21, Jon Hansen represented AHCA at Arlington County's Historic Affairs and Landmarks Review Board (HALRB). The Board recommended that the name "Arlington Heights Park" be re-assigned to our park at 9th and South Irving Street, pending re-assignment of the name of the park at 8th and South Adams Street to either Fort Craig Park or Penrose Park.
We posted Mary Ellen Finn's drawing of the re-design on-site at the park itself and on our web site. We agreed to allow citizens one week to review the draft re-design and submit comments to Arlington Heights resident Mary Ellen Finn (703-521-3217) and/or Robert Capper, Arlington Parks and Recreation, 228-3337. (The comment period ended May 10.)
Design Elements:
Landscaping, including bulbs, Crepe Myrtles, Nandina, Spirea, and other ground cover on the south triangle
Install picnic table on south triangle
Install drinking fountain with spigot at northeast midpoint
Move park benches to north triangle, out from under the pear trees
Remove four of the pear trees on the midline to allow the others to grow
Remove sign on north triangle to allow an open play area
These design elements have been reviewed and approved by AHCA president Jay Wind, AHCA vice-president Mary Ellen Finn, past president/NCAC representative Jim Gill, neighbors Jay and Amy Vennett, and County staff Robert Capper and Rebecca Feldberg.